Horse Corral Panels With Chains For Sale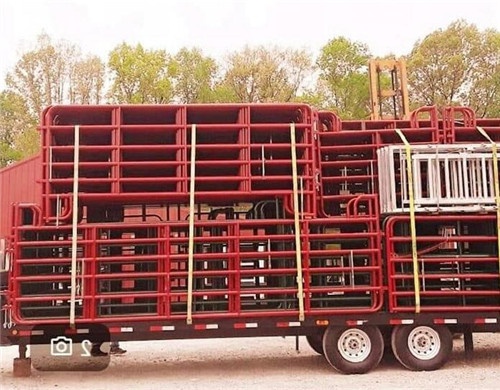 Horse Corral Panels With Chains For Sale
The 5-ft powder coated corral panels are made up of 1-3/4-in rounded high-tensile strength steel tubing, with vertical center Z-brace to support strength and durability. The square corner, pin connections and full welded points make the corral panel so strong. Custom loop legs prevent sinking.
1. Specs of Corral Panels



Height: 5 ft., 62'', 72''

Width: 10ft, 12 ft, 16ft

Number of Bars: 6

Steel Tube: 2 in. or 1-3/4 in. diameter round tubing with superior continuous-welded saddle joints with two vertical "Z" braces for added stability

Tube Gauge: 16 ga., 19 ga., 20ga.

Gate Latch: Quick pin latch with u-supports

system to make assembling multiple panels easier

Legs: Loop legs prevent each panel from sinking into moist or soft soils.
Finish: Powder coated red, gray, green color to provide longer field life and resist corrosion
Galvanized & Powder Coated Corral Panels

| | |
| --- | --- |
| | |
| 1. 2" Rounded Corner Heavy Duty Corral Panel 16 Gauge 10FT x 62" Tall 6 Rails | 2. 12 Ft. 6-Bar Red Tube Corral Panel, 1-3/4 In. Round x 19 Gauge With Two Vertical "Z" Braces |
| | |
| 3. Corral Panel 10 ft. 6-Bar, 19 gauge round tube, 1-3/4" O.D. or 2" round 16 ga 60" high with vertical "Z" braces | 4. Corral Panel, 6-Bar, Heavy-Duty, 50 in. Or 62 in.tall x 16 ft with Four Vertical "Z" braces |
2. Application of Corral Panels



Livestock corrals

Portable horse fences


Round pens